Cast
CASSIOPEIA QUINN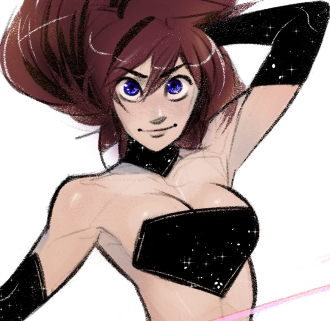 The galaxy's most popular outlaw (if you're into that sort of thing). Cassiopeia describes herself variously as a "procurement specialist," "irregular cargo transporter," "astro-navigatrix," "aerial speedster," "heistologist" [sic], and "space explorerizer" [sic]. Her likes include adventure, pantslessness, and her pal Zeke. Her dislikes include foods that are hard to eat in zero gravity.
ZEKE
Cassiopeia's mechanical partner Zeke is a tin man with a heart of gold, sure, but he's also something much more important: a cowboy. In space. In the future. Who's robotic! Eisner, please.
MADISON VRAX
Captain Vrax is a talented young officer with a strong sense of propriety. She has a long and distinguished career ahead of her. You know, unless space piracy of some kind gets in the way.
ALINA "CUPCAKE" ISON

An operations officer in the Prime Galactic Navy, Ison hails from a planet of peace, prosperity, and politeness where almost everyone is super nice. You ever see Demolition Man?
ISIDOR FARRING
Mr. Farring has lived the life of a classic space adventurer, getting in exciting fights and dodging countless lasers. What's not obvious is that he has as much brain as brawn, and his actual specialty is as a science officer.
DAVID "KETTLEHEAD" KETTERING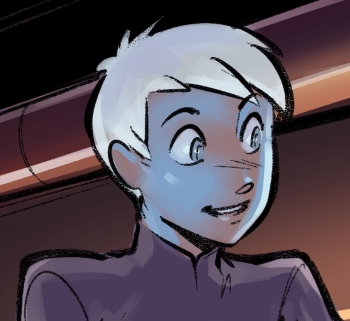 A tactical officer in the Prime Galactic Navy, "Kettlehead" is skilled beyond his years at manipulating computer systems - although he'd rather be gaming.
LIEUTENANT RUSS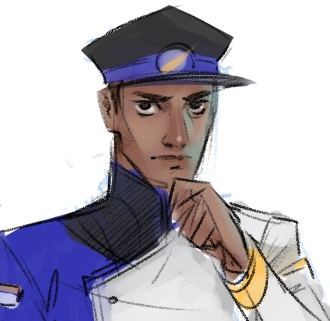 First officer of Vrax's ship. Does things by the book. Would prefer the crew become significantly less ragtag and eccentric. Will be disapointed.

THEIRA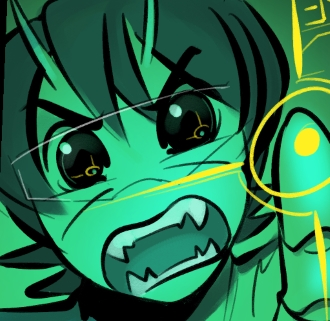 Theira joined the Prime Galactic Navy for two reasons: to shoot guns, and to shoot bigger guns.

skriptkity

skriptkity_in_ur_website
u_liek_comic?
i_liek_yarn_lol
THEOPHILIUS TOYN
Lord Admiral of the Fourth Fleet and Duke of the Prime Galactic Regency. Toyn is an accomplished strategist who is widely known for exemplifying the aristocratic virtues of his society. Also, he keeps a well cared-for mustache.
PIERRE SENCHEL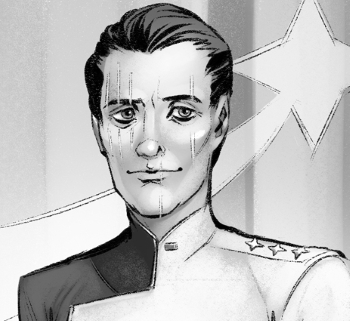 A Line Admiral (and Earl) of the Prime Galactic Navy who sponsored Maddy in officer's school. He has been winner of at least one Future Steve Buscemi look-alike contest.
THEKLA ROSALBA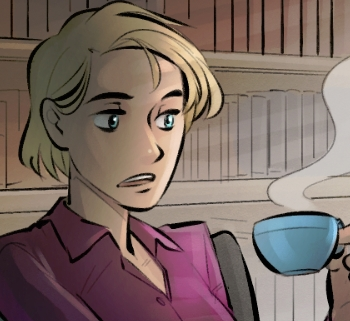 A captain in rank, though not in command of a ship. Resents Madison Vrax's success, given that Maddy's both younger than her and keeps failing to accomplish her primary objective.
GLEB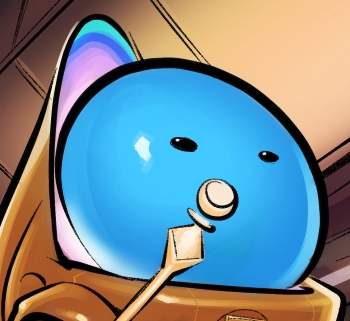 A Prince of the mighty House Poolg, the only one of the Five Houses of the Vanaa that has held sway over a world for centuries. He has poured himself into a leadership role of in major aid organization, against his family's wishes.
TALPS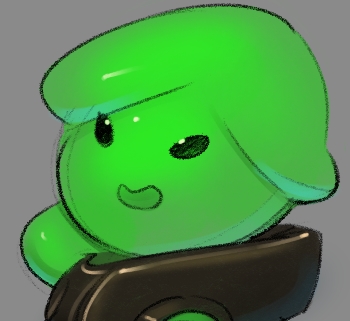 A systems operator in the Vanaa Aid Corps whose primary reason for joining up was to see the galaxy. She's young, clever, and outgoing. Plus she has a kicky "hairdo!"

SKWIDJ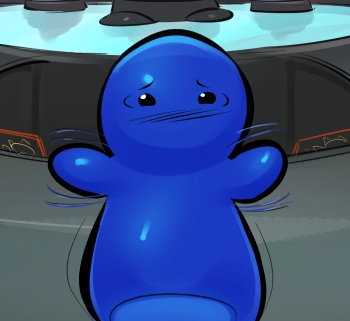 Skwidj is an engineer who, like all great starship engineers, needs to learn to operate under pressure. He's not great at it yet, but he's learning.
NIMOO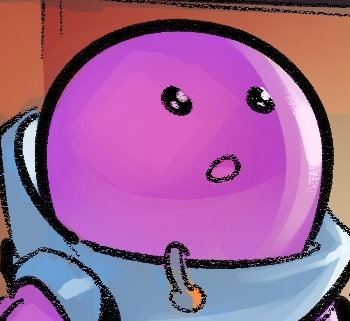 A Vanaa with a strong interest in "solid" culture, Nimoo has become fully accustomed to expressing himself by forming a mouth (unlike most Vanaa).
KAG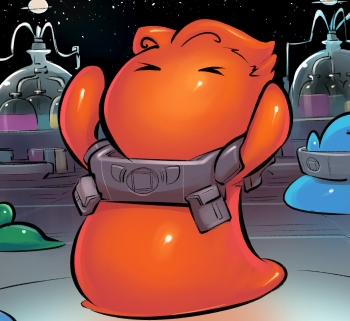 Kag is a skilled pilot vital to getting the Vanaa Aid Corps into and out of dangerous situations so that they can help people. You can tell. Why? Because he'll be the first one to let you know.
KWAH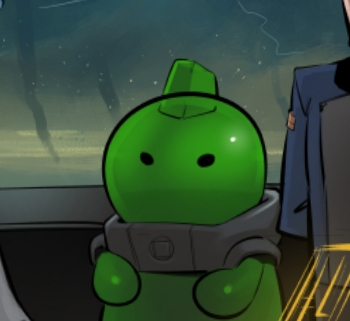 If Vanaa could be hard-headed, that would describe Kwah. He has trouble getting along with non-Vanaa - although to hear him tell it, they're the ones who cause trouble for him.

LUC ANTOINE DUCHANCE LEFYNE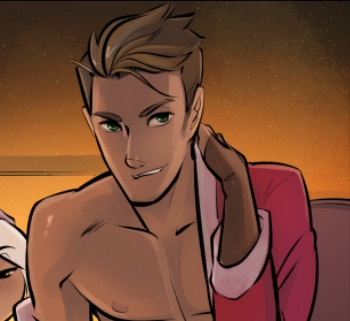 SMUG magazine's popularity tracker usually places Cassiopeia at #1 on their "Roguishly Charming Galactic Outlaws" list. However, their #1 "Scintillatingly Sexy Smuggler" is Captain Lefyne, and has been since the list's inception. Of course, anyone who's met him will learn that looks aren't everything.

VERNON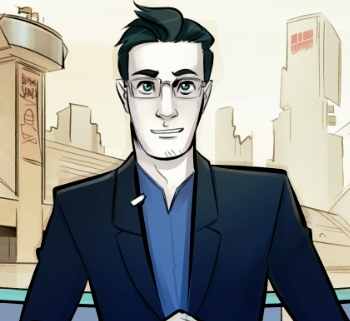 A staid sportscaster and newsman, who believes in being informative in his coverage.

KAMSI WRECKHOUSE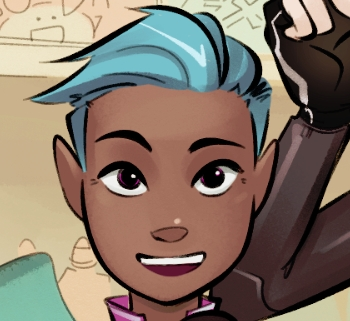 A former speeder-racing champion, this diminuative announcer's reactions to excitement are entertainment themselves! Well, that's what her professional bio says, anyway.

MOTOR MINX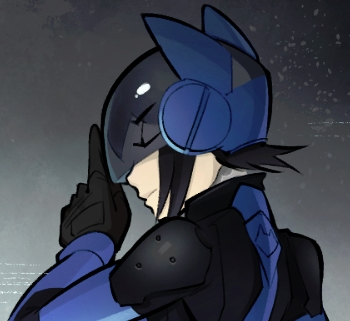 An enigmatic cyborg woman composed of bleeding-edge technology. She is renowned for her abilities in racing, fencing, and dance. She also seems to have an unexplained connection to another cast member...
DR. BOTZ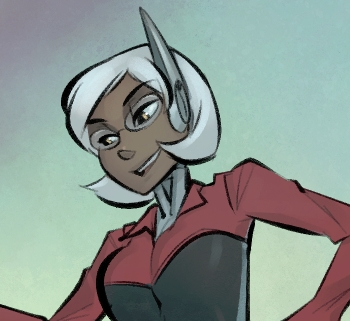 A renegade cyborg academic who believes robots will ultimately dominate all life in the galaxy. Consequently, she wishes to dominate all robots!
MERCY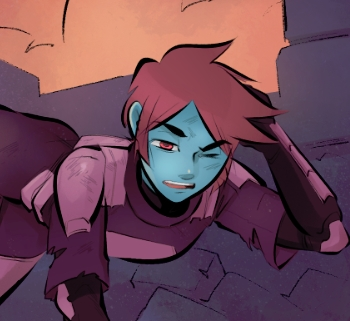 A bounty hunter who uses strictly non-lethal means. She had a high rate of success right up until she tangled with the Vanaa Aid Corps. She's desperate to get back on her employer's good side.

HEADHUNTER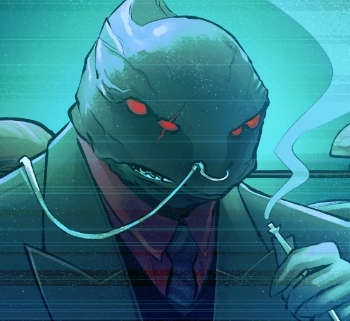 The chief of the extralegal bounty hunting clans. A powerful, clandestine force in the underworld - no one knows where he's based. No one even tries to guess what his goals are.
CLAWLOSSUS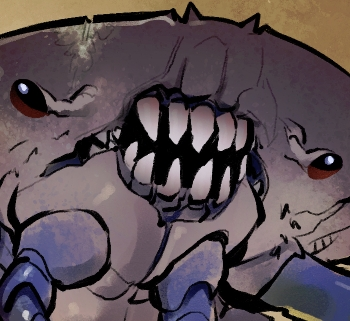 CLAWLOSSUS HUNT BOUNTIES! CLAWLOSSUS HUNT CREATURES! CLAWLOSSUS HUNT VALUABLE INVESTMENT TIPS! NO PREY ESCAPE CLAWLOSSUS!

THE SPACE ORPHANS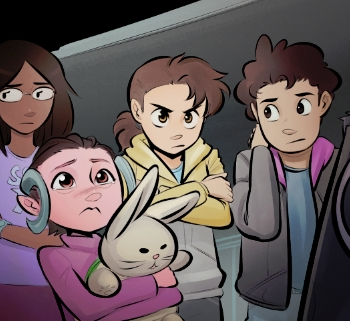 Nizka (the smart one), Ashley (the cute one), Nisa (the troublemaker), and Maks (the foodie). They don't have parents, but they're well cared for and loved, and are turning out to be good kids. Hmm... I think that's all of them...

THE OLD SALT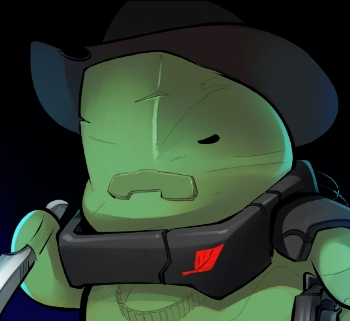 A mercenary turned traitor turned bounty hunter, Salt shares an enmity with Farring that's bound to end in violent, violent violence.